---
K-Visor 2.0
250.00 USD
download demo
K-Visor 2.0 is a new version of application, developed for Kinect 2.0. As well as the previous version, K-Visor 2.0 can be used do attract passers-by. An image from display starts interacting with them, grabing their attention and enabling to look through information about goods and services with several simple gestures.
We have also added some new functions of gesture control of the interface and developed entertaining built-in add-ons for K-Visor 2.0: Ping-Pong and G-Shot.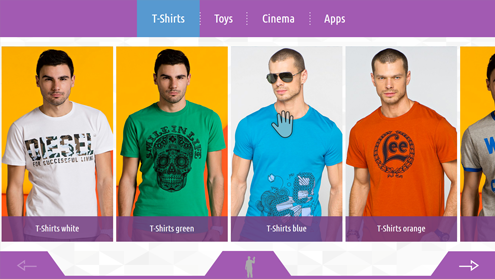 New basic functionality capabilities

G-Shot enables user to make photos with samples of images, for example pictures of goods, film stars. These photos are automatically posted to Facebook.

Ping-Pong is an interactive arcade game made in a retro style. The game is fully controlled with gestures: user should make a fist to grab the bar and move hand to try to strike a ball.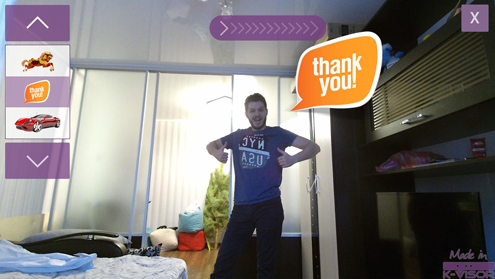 System requirements:
OS:
Microsoft Windows 8; Microsoft Windows 8.1
ЦПУ:
Intel Core 2 Duo 2.4Ghz
ROM:
300 MB
Microsoft Kinect 2.0
---
K-Visor
199.00 USD
download demo
In combination with a Microsoft Kinect device and a large screen, K-Visor becomes your 24/7 marketing tool that will bring positive attention to your company, products and services.
Cinemas, waiting rooms, shopping malls, stadiums, halls and other large sports complexes are some of the big-attendance locations that attract a significant amount of people where you can use K-Visor to promote your products and services.
K-Visor recognizes people's heights, their natural movements and gestures, and can be adapted to a specific target audience.

Application K-Visor

Work with K-Visor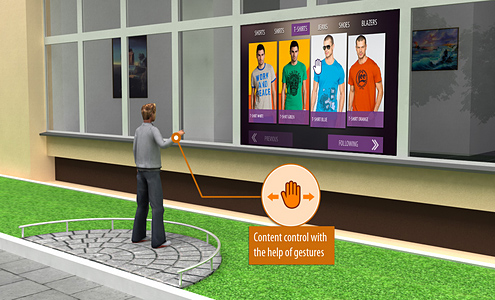 Basic functionality capabilities

User type identification according to height

All standard image and video format support

Application content control with the help of movement and gesture

Interactive helping system

Multilingual interface (english, russian, german)

Slide show regime

Multifunctional file manager

Equipment for K-Visor
System requirements:
OS:
Microsoft Windows7; Microsoft Windows8
ЦПУ:
Intel Core 2 Duo 2.4Ghz
ROM:
100 MB
Microsoft Kinect
---
24/7 Support: support@k-visor.com